The Capitol Theatre Experience
Bringing remarkable to life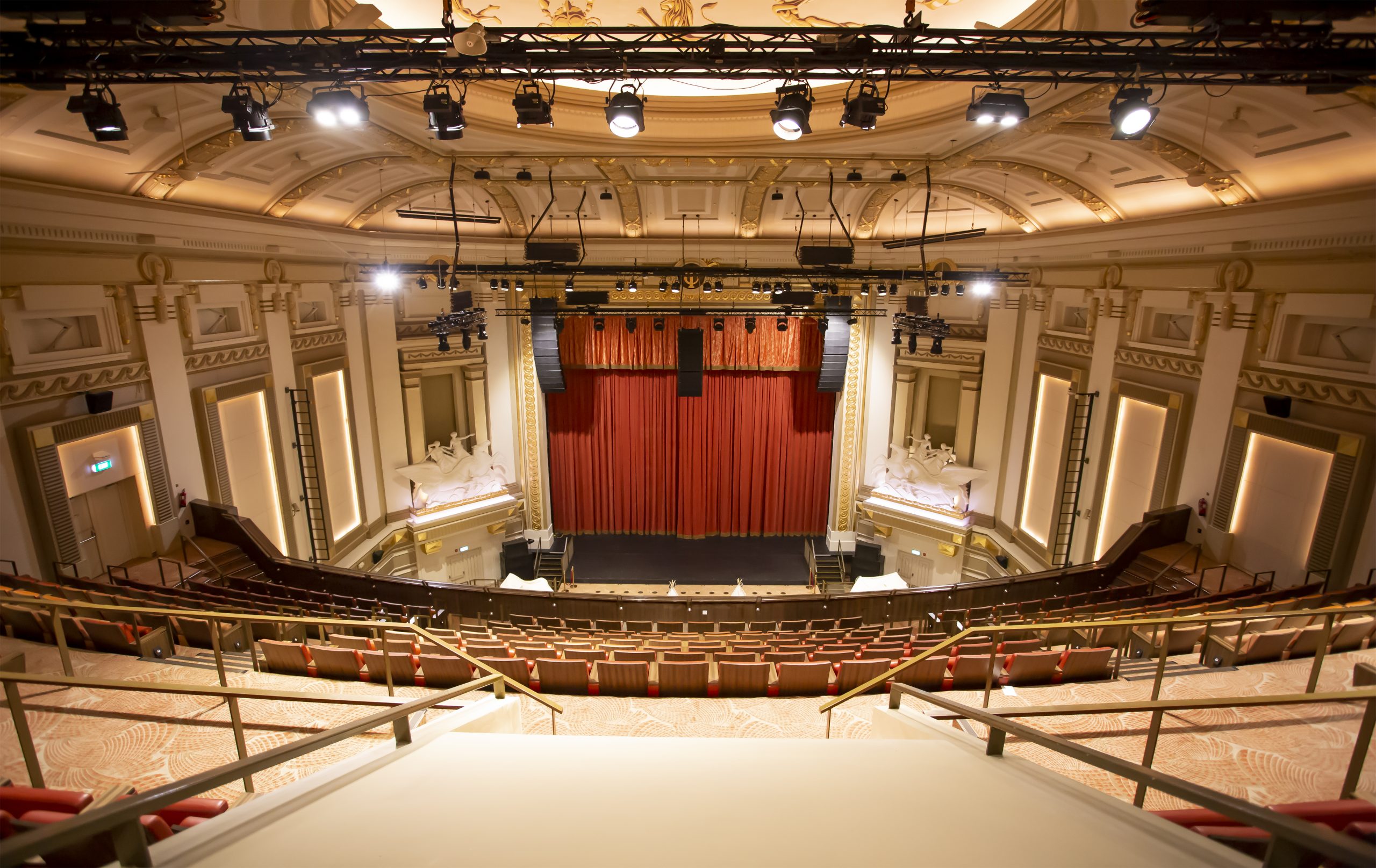 Capitol Theatre, part of a prime integrated development Capitol Singapore, is an architectural and heritage treasure. The venue remains contemporary and vibrant thanks to its exceptional interiors and leading-edge, world-class audio and visual equipment. The theatre's 977-seat venue is the first in Southeast Asia to have a rotational floor system that allows for flexible seating configurations, making it an ideal setting for any event.
The beauty and heritage of Capitol Theatre is discernible from the minute you step in. A sense of taste, refinement and savoir faire befitting its iconic Art Deco architecture starts from the theatre's foyer itself, revelling in an expanse of space heightened by the arching dome-shaped ceiling to encourage sparkling pre-show conversations. Anchoring the performance space, meanwhile, are two magnificent winged horse sculptures and their riders flanking either side of the stage.
Today, the Grande Dame of the city's cultural heritage is the destination of choice for creators of the region's, and indeed, the world's, elite performances and events.
Encircled by a leading international luxury hotel The Capitol Kempinski Hotel Singapore, ultra-plush Eden Residences, and a wide array of shopping and dining options at Capitol Singapore to tempt the most discerning patrons, Capitol Theatre provides the most sophisticated of settings for any cultural milestone.
Iconic Architecture
Capitol Theatre boasts a neoclassical architecture designed by British architects Keys and Dowdeswell and built by Messrs Brossard and Mopin, starting with the construction of its foundation in mid 1929. Conceived as a theatre and cinema, the building's general plan, seating arrangements and even lighting was inspired by New York's famed Roxy Theatre. The architecture was remarkable for its time with the theatre's roof able to slide open to create more ventilation.
State of Art Equipment
The theatre's commitment to excellence remains contemporary and vibrant with leading-edge audio and visual equipment that ensure performances are world-class, exuberant and full of life, in sight and sound. The 977-seat venue is the first in Southeast Asia to have a rotational floor system that allows for flexible seating configurations, perfect for any performance, whether it be a film screening, musical production, dance performance or even a MICE event.
Historical Interior
Messrs Sherwin-Williams Paint Co. in collaboration with local partner Messrs Lohmann and Co. masterminded the theatre's interiors, in particular, detailing on its walls and ceilings. Capitol Theatre's current and refined interior design which includes luxurious fixtures and furnishings lend gravitas and prestige to performances.
4Capitol Theatre's legacy lives on in the reverent hands of IMC Group Asia. The live performance and multifaceted entertainment organisation is proud to helm the theatre's inner workings and operations, turning a new chapter for one of Singapore's best and most elegant of venues.
IMC Group Asia is a multidisciplinary entertainment establishment with offices in Chengdu, Osaka, Hong Kong, Singapore, Kuala Lumpur and Bangkok. Headquartered in Singapore, the group's expertise lies in live show production, creative development, concert and event management (IMC Live Global, Re:Activate Asia) as well as technical solutions (ITC Systems & Eleven Productions).
In the past 14 years, IMC Live Global has promoted over 450 world-class shows for 5.5 million fans in 48 cities around the globe. IMC Group Asia's entities synergise as a collective whole across platforms, creating top-notch services for the artistes and corporations it collaborates with, providing unsurpassed, exceptional live experiences for audiences around the world.